Was it overpriced? No, it was excellent buying. A similar unit a year ago went for almost $200,000 more.
What did you think it would go for? $550k.
What was surprising about it?
That it achieved $550k when the unit below [610/54 High Street] sold for $450k in the same condition. This unit had been rented out on Airbnb and it was absolutely appalling, disgusting. It was filthy. There was a cheap BBQ that was putrid and had leaked grease all over the balcony. The walls were greasy, yet it was fully booked till January at $140-$150 per night. It was showing a fantastic return.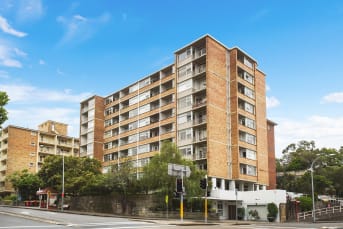 I said to the owner: "Get all your furniture into storage". They were going to lose the income for probably two months – it was fully booked.
It needed a good two weeks to prepare. Then I had to get it photographed.
How easy was it to get the owners to agree?
They agreed with me reluctantly. It did take some convincing. It took time for them to comprehend that it would work. They had to cancel all their bookings and Airbnb gets the shits.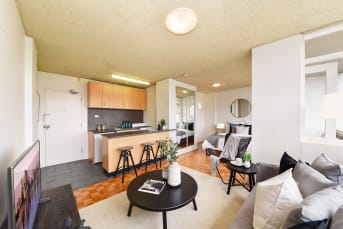 They thought: "How honest is this agent? Are we really just going to end up spending all this and still end up getting 450k for it?" In which case they would end up with a lot less.
I did everything in organising the quotes for the furniture, the styling, added my own paintings – I took my own paintings from my own house.
How often do you put your own paintings in?
Every single time! I've got one of cows by Vincent Beagley – it's very Australian. And the other one is an etching of Salvador Dali, a self-portrait. I take my own vases, paintings, a wall mirror. Everyone walks in and goes "Wow! This looks great – and they pay for it".
We painted it throughout. We had a cleaner that went in for a day, then we got Furnish & Finish to style it. I walked in and it looked out of this world – by spending altogether $5000 or $6000 we got an extra $100,000 for the unit.
We got a deal on rental for furniture for two months over Christmas in case it didn't sell. Because I sold so quickly, the furniture is going to stay there.
Now it goes back on Airbnb till it settles – with all that lovely furniture supplied by the stylist. It doesn't get collected till mid-January! Where they were getting $100-$140 per night, they could easily get $200 a night for it now. How good is that?
Do you reckon we'll see another result like this: a) next week b) next year c) next cycle d) never?
b) Next year. Because it makes sense that using elbow grease will reap the benefits in a falling market. There's still money to be made if it's done correctly.