Melbourne came in second at $8.5 billion, but grew 12 per cent on the prior year (driven by a 50 per cent rise in retail investment) indicating a potential shift in investment flows. Brisbane recorded $5.4 billion in deals, but was down 14 per cent on 2017.
In a sign of improving sentiment among investors, Perth managed $2.2 billion in deal flow, its highest in five years and up 6 per cent on 2017, led by more than $1 billion of office deals.
Driven by cheap debt, high returns relative to other real estate markets and a weight of global capital, Australian commercial real estate deals more than doubled from less than $15 billion in 2010 to peaking above $37 billion in 2015, led by investment in the office, retail and industrial sectors.
They remained above that benchmark in both 2016 and 2017 driving up commercial real estate values to record highs and reducing yields for prime office assets to close to 4 per cent.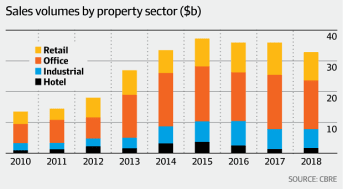 Prices 'reaching historical highs'
But with both office values and yields now close to peaking, the cycle has turned with less capital growth on offer to entice new investors and fewer institutional-grade assets available for purchase at reasonable prices.
Carmel Hourigan, AMP Capital's global head of real estate, said the direct real estate cycle was near its peak with "pricing reaching historical highs across all sectors".
While she said there was still strong global investor sentiment towards commercial property, particularly for Australian direct real estate, the sector was moving into a "less capital growth intensive environment" with "income fundamentals paramount" to achieving outperformance in total returns moving forward.
As with previous years, most transactions occurred in the office ($15.8 billion) sector – though this was well down on $17.6 billion in 2017 – followed by retail ($9.2 billion), industrial ($6.2 billion) and hotels ($1.7 billion).
Some of the drop off in Chinese activity was taken up by Hong Kong buyers, who lifted their investment 200 per cent over 2018 while investors from the Americas, Europe, the Middle East and Asia also increased their investment over the year.
Over the year, American investors accounted for $2.3 billion of deals, ahead of Singapore ($1.9 billion) and Hong Kong ($1.7 billion).
Major deals in 2018 included US private equity giant Blackstone snapping up Hong Kong investment management firm PAG's half-share of the A-grade tower at 60 Margaret Street in the Sydney CBD for $420 million and Singapore's GIC Real Estate backing a Primewest trust's $326 million purchase of Perth's Exchange Tower for $326 million.