Wall Street dropped heavily on Tuesday as it became apparent that the market response to the Group of 20 meeting in Argentina over the weekend was overdone. Bank stocks bore the brunt of the selling in the US, dragged down on the flattening yield curve. Australian bank stocks were all weaker on Wednesday led by Commonwealth Bank which fell 1.1 per cent to $70 and Westpac which fell 1.2 per cent to $25.59.
"The most likely scenario is a scenario where we are going to experience a downturn, a more serious downturn in the market within the next couple of years," said C WorldWide Asset Management's Bo Knudsen. "A downturn in markets is nearly always connected to a downturn in the US economic cycle. Even if China is very important and Europe was important, it's really about the US."
The yield on 5-year US Treasuries has already overtaken the 2-year. "Every time we have had a big correction in markets, before the big correction we have entered into a very inverse yield curve," Mr Knudsen said.
Charlie Jamieson, from Jamieson Coote Bonds, warned of conditions in the credit market deteriorating, adding to the already troubled dynamics of rising volatility, Federal Reserve hiking, equity market peaking and flattening in the curve. Every time the 2-year and 10-year yields have inverted in the last 50 years it has been matched with a recession within six to 12 months.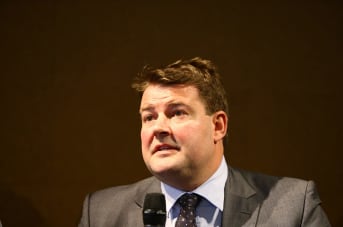 "It's been coming for quite some time but it's now coming very quickly. At the rate of change is could happen on Thursday," Mr Jamieson said, referring to the imminent 10-year inverting. "You've got to watch credit in 2019," he warned. As for the performance of equities, "when you hold a mirror up to the market and you see positive news flow and negative price outcomes, that tells you everything you need to know."
The difference between the 10-year Australian and US bond yields has narrowed to 42 basis points from 54 basis points in October.
Mr Knudsen was unwilling to call the top for shares, just yet: "There were fantastic returns at the end of the 1990s. It can be very profitable to dance at the edge of the volcano. The view is fantastic but it's dangerous and profitable and complex."
Revived trade fears are adding another layer of anxiety to global markets, as investors worry that restrictions are catching up with growth. Asian equities fell on Wednesday with Tokyo's Nikkei 225 losing 0.6 per cent to 21,897, Hong Kong's Hang Seng dropping 1.7 per cent to 26,803 and China's CSI 300 lower by 0.6 per cent at 3,247.
"Markets are a bit febrile going into the end of the year," Fidelity International portfolio manager Kate Howitt said. "Some people will close off their books and we are at the point where liquidity is reducing."
​With that in mind, "then you have the binary overhang of the US-China trade war. That's not something you can really get a handle on," Ms Howitt said. "We are starting to see realisation that trade wars are going to drag on economic growth."
Mr Trump's top White House economic adviser appeared to backtrack from the understanding that Beijing has agreed to cut tariffs on US-made cars.
Mr Trump warned that his team of trade advisers led by hawk Robert Lighthizer would determine whether a "REAL deal" would happen. "If it is, we will get it done," Mr Trump posted in a tweet. "But if not remember, I am a Tariff man."
Markets found some relief late in the Australian trading day after China acknowledged for the first time the 90-day deadline to resolve the trade impasse for the first time, saying there would be further negotiations to set out a clear road map over the next three months.
China's Ministry of Commerce said on Wednesday that talks between US and Chinese officials had been "very successful" and trade envoys from both countries would "move actively" to progress negotiations.
Political turmoil in the UK is also keeping investors distressed. Prime Minister Theresa May's government was on Tuesday found in contempt of parliament for refusing to release the full legal advice for Britain's impending exit from the European Union.
The UK parliament is at the start of five days of intense debate before a final vote on December 11 to facilitate the exit from the trading bloc, planned for March 29.